Oriador will take care of your rosters quickly and easily, leaving you with more time and energy for other, more important tasks. We know that producing rosters and dealing with staffing conflicts is the kind of work that often gets taken home, and we really want to help you leave it at the office.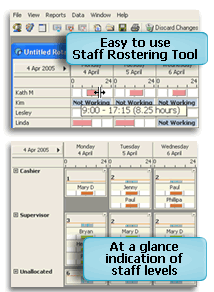 Our massive 45 day free trial gives you plenty of time to make sure you're 100% happy before paying anything. Our trial version is fully functional, and includes all reports, so you know exactly what you are getting.
Unlike traditional spreadsheet style rostering software, Oriador has been developed from the ground up to provide an attractive, easy to use interface for defining and maintaining rosters.
The finished roster can be exported to the web or a company intranet for easy access.
Oriador's simple graphical scheduling helps you change working hours and assignmentments in the schedule quickly and easily.
Each member of staff has a fully customizable shift pattern, which you can extend to any length you need.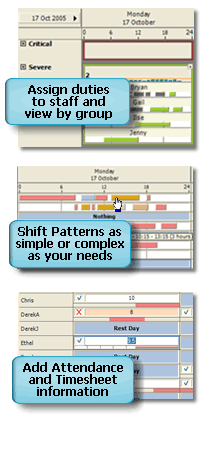 You can update the roster with attendance and timesheet records after the fact.
Timesheet reports can be printed, or exported to excel or CSV files for payroll integration.
Dozens of other reporting and export options.
Import your staff list from Excel, Access or a text file.
The flexible Roles system can be used to manage staff assignments, competencies, allocation or skills. Each role can be assigned a color, and you can use the Role toolbar to quckly and easily change assignments.
Switch to the Roles view for a flexible, at-a-glance indication of staffing levels. View assignment by staff group, payscale or employee type.
No need to register your information to enjoy our trial software, you can have it right now, no hoops to jump through, no obligation, no spam.
There are no subscription or maintenance fees to pay, once you buy your license you can keep using the software for as long as you need it (including free upgrades for 12 months).
Fast, friendly support when you need it.
Our low cost Multi-user license allows you to use the software on as many PCs as you need, so there's no need to worry about extra fees as your needs change.
A Windows Vista compatible version is now available.
Only US$549 (Multi-user license US$949).