What happens when Templates and Shift Patterns change?
When you change a Template Day, a Shift Pattern, or a member of staff's Working Pattern, the following form will be displayed.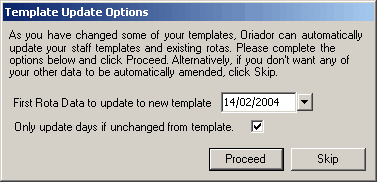 Here you can choose the date from which the new templates should start. All existing rotas beyond this date will be updated to the new templates and shift patterns. The new templates will always take effect immediately, but any existing rotas up to the given date will not be changed, and can therefore remain as was. If an existing rota is Reset, or manually amended, it will use the new templates.
By default, only rota days which were not manually amended (ie, were unchanged from the templates) will be updated in this process. You can force the system to update even days you have amended yourself by unchecking "Only update days if unchanged from template".
The update could take a significant amount of time, depending on the number of staff affected, and the amount of existing rotas that are affected. The progress will be displayed as below.

Here the system is updating the staff working patterns with a new Template Day.